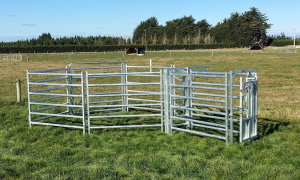 Having livestock yard panels is a great way to ensure that your cattle are safe and sound. But how do you choose the best way to install cattle panels? What are the things you need to consider from a safety point of view? And how do you choose the best vendor that provides livestock yard gates?
Before contemplating these factors, there are a few more things you need to consider. The following points will help you ensure the safety of your cattle, and enable you to plan your livestock yard panels better:
Give your cattle enough space to move around: Having a livestock yard gate is a sensible idea, but it should not suffocate your cattle. Give them enough space to move around and breathe, to ensure the better mental and physical health of your cattle.
Choose curved designs for cattle panels: Livestock yard panels that are curved are always safer than those with sharp edges. Animals always have the tendency to escape and fled any containment. They can attack the livestock yard gates, so avoiding sharp edges also eliminates the chances of injury.
Cover your cattle panels: Covering livestock yard panels safeguards your cattle from extreme weather events, which are becoming frequent in Australia and all around the world. Be it a storm or an extreme heatwave, complementing your livestock yard gates with overhead shades is always a great idea.
Here are nine things you need to consider before buying cattle panels, to ensure maximum effectiveness.
The material: The material you choose for your livestock yard panels is extremely crucial. While wood has been a popular choice for years, there is always the danger of termites and decay without proper maintenance, unless you use heartwood. Steel is a great choice these days, as it is sturdy and less vulnerable than wood.
Weather protection: Even if your livestock yard gates are made of steel, there is always a chance of corrosion. Rustproofing and galvanising protect your cattle panels, so using a Chrome layer is always a good idea for the long run.
Rail arrangement: The rail arrangement of your livestock yard panels must be appropriate to accommodate both comfort and safety. The panels should be close enough to prevent the animals from escaping, but large enough for you to feed the animals any time of the day.
Pipe thickness: The thickness of the pipes you use in your livestock yard gates should not be more than 4 mm in any case. While a thickness of just about 1 mm can do the job for smaller cattle, an average thickness between 2 to 3 mm would work for cattle of medium size and build.
Production capacity: The production capacity of your livestock yard panel vendor should be good enough to suit your requirements. The turnaround time should be minimum, considering the fact that each day that passes is an opportunity wasted.
The technology used: Which technology does your vendor use to prepare your livestock yard gates? Is the welding properly done or are there any gaps? Is the steel galvanised and are the parts certified by ISO or Standards Australia for quality?
Professionalism: Your vendor must be professional in the approach used for preparing your livestock yard panels. You should be able to discuss all your requirements, and the vendor must make all necessary measurements and conduct proper research before the implementation begins.
Customer service: Check the customer service of different livestock yard gate vendors before making a decision. Get to know about the after-sales service of each vendor and choose the one that suits you the best.
Packaging of the panels: The livestock yard panels should be appropriately packed in plastic bags and stored properly before transportation. Extra layers of baggage must be added to avoid any damage during transportation.
If you are looking for a reliable livestock yard panel vendor, contact ANP Metals. ANP Metals prepares customised high-quality steel cattle panels at affordable prices. We discuss all your requirements in detail, and prepare great designs to ensure the safety of your cattle and business. Email all your requirements to us at anpmetals@gmail.com now.