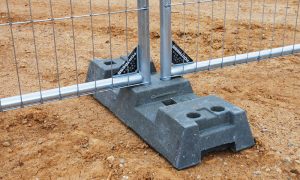 Protecting temporary fences can be a hassle, especially if you are busy with other activities. Thankfully, temporary fence feet help solve this problem to a large extent. These help you keep your temporary fences erect for a long period of time, helping avoid any damage or uprooting.
Having adequate knowledge about temporary fence feet is really important if you are planning to get them installed for your property or event. Since there are many types of fence feet available, it is important to know the qualities you should look for in temporary feet. Here is a quick list of the qualities that would help you protect your temporary fences in the best way possible.
Design
The design quality of temporary fence post feet is really important. The design quality helps indicate the amount of support your temporary fence is likely to enjoy. Handling the temporary fence should be easy enough, which also depends on the design quality of the temporary fence. Fitting should also be easy and uncomplicated, which again depends on the design quality.
For any kind of temporary fence feet, the weight and build are really important. The length and breadth of the temporary fence are important, as is the length-breadth ratio proportion. Disproportionate fences can be difficult to balance, and this must be tested well before you decide on installing a particular design type.
Compliance with lift regulations and wind rating
Temporary fence post feet must comply with adequate lift regulations. The Australian National One-Man Lift regulations must be followed at all times, to avoid any damage to your property as well as to the person(s) lifting and moving the temporary fence feet around.
Your temporary fence post feet should also comply with the wind rating. Wind Rating B should be the benchmark. Following these compliances keeps not only your fences safe, but also helps you protect your property.
Check the shape of your temporary fence feet
Checking the shape of temporary fence post feet also helps the protection. Longer shapes of fence feet help in the support. This also protects your temporary fence feet from harsh climates, which are quite frequent in Australian conditions.
Following environmental and safety standards
Following environmental and safety standards is quite important, as temporary fence feet can cause more damage than most people think. Many contractors and labourers leave concrete on either the field or car parks. This can cause harm to the local citizens and also disturb their everyday activities.
Complying with safety and environmental standards also helps your credibility. People that follow such standards are always respected by local residents and seen as law-abiding citizens. Adequate maintenance and disposal of temporary fence feet are easy and must be followed.
Using recycled material helps as it helps you reduce your carbon footprint and avoid wastage. If you are looking for temporary fence post feet solutions, contact ANP Metals to know about the latest deals and offers. Get high-quality temporary fence feet installed in no time, while adhering to the compliances and get personalised customer support.