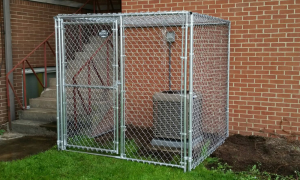 Whether you are worried about your dog running away or are getting overwhelmed by its enthusiasm, you might consider getting a dog fence. A heavy-duty dog enclosure might not always be the ideal solution, as it could cause your pet more trouble than necessary.
There are many types of pet panels available today, but deciding on an appropriate one depends on many factors. Some factors are:
The safety of your dog: The dog fence panel must be able to secure your dog from animal attacks or road accidents but should also create a safe environment for your dog.
Cost: The cost of the pet panel can vary by type. Choose the one that suits your pocket, and don't overspend.
Space limit: You might also have space limitations, so go for a dog fence type that suits the size of your property.
Maintenance: Dog fence panels require regular maintenance. Go for options that are easier to maintain for you.
While some government bodies and industrialists still use electrical pet panels, they are certainly not advisable as they might affect the health of your dog adversely.
The Best Dog Fence Panel Types for Different Requirements
Based on your requirements, you can choose from a variety of different dog fence panels. Go through the list of the most appropriate pet panels for all types of requirements:
Cost-effectiveness: Chain-link or wire mesh pet panels are the most cost-effective, though not the most aesthetically appealing. These types of pet panels might not work for all kinds of dogs and don't add a great deal of privacy to your pet either. Besides, the cheaper dog fence panels don't suit all types of terrains.
Durability: Iron, aluminium or steel fences can be used to build a heavy-duty dog enclosure. The best thing is that other people and animals cannot get past these types of enclosures. These types of pet panels require regular maintenance, and are not portable.
Privacy: Wood-slat and vinyl dog fence panels are the best for the privacy of your pet. These panels might be a bit expensive, but offer your pet a lot of safety and tenderness.
Visual appeal: Wooden picket fences are the best-looking among a lot of pet panel types. These types of dog fences are also slightly expensive, but are sturdy and protect your dog effectively.
Portability: Portable dog fence panels are great for people who are constantly on the move. If you move houses frequently or travel a lot, such types of pet panels are great for you. You can keep them in your house or in the garden, and are easy to set up. They are suitable if your yard size is relatively small. However, it is easy for trespassers to get past the fence.
If you are worried about the safety of your dog and want an immediate solution, contact ANP Metals. We provide a huge range of dog fence panels that suit your budget and serve all your requirements. Email us at anpmetals@gmail.com now to get the best fit for your dog.