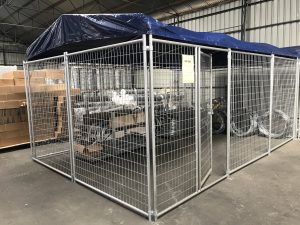 Have you recently brought a pet home? Or are you planning to bring home a new dog or cat for your kids? Having adequate pet supplies is crucial to ensure their health and well-being. One of the most important pet supplies is pet enclosure panels to keep your pet safe and healthy.
Many pet owners consider purchasing pet enclosures to keep their pets contained and secured wherever they go. They consist of metal panels and provide an easy to access space where the pets can sleep or roam around.
Factors to consider before selecting a pet enclosure
Size and number of pets
Pet breed
Garden and backyard features
Location
Type of weather
If you're planning to invest in a pet pen enclosure, then this blog is definitely for you. Here are the top 5 major benefits of purchasing chain fence supplies and panels for your beloved pet.
1. Improved Security
The pet enclosure panels provide a large safe and secure area for the pets. Your pets can spend quality time there without you having to worry about their safety or comfort. The enclosure allows pets to spend more time outdoors and protects them from prey.
2. Easy To Customise
The pet enclosures can be customised without the use of heavy-duty tools or equipment. They come in a variety of shapes, sizes and configurations to meet your needs. The easy to assemble and disassemble design offers great flexibility and portability to pet owners.
3. Creates Safe Space
Having quality chain fence supplies is a great way to ensure your pet dog or cat feels safe and comfortable all day long. You can create a personalised entertainment area for your pets; they won't be cooped up inside the house. Fencing also helps create a designated play and rest area for your pet. It is ideal for both indoor and outdoor areas.
4. Great Durability
The pet enclosure panels are made from sturdy and heavy-duty materials. They have high rust resilience which makes them a perfect fit for a wide range of areas and spaces. Whether you need to keep a single pet or want to separate your pets, pet enclosures are perfect for a wide range of pet security and storage applications.
5. Ideal Training Space
Enclosures come in handy when it comes to training pets for difficult situations. Pet enclosures offer an excellent space for pet training. Depending on your pet's age and size, you can choose an enclosure and use the space to train them. You can easily take your pet out whenever you want or take them with you. Searching for durable and cost-effective pet enclosure panels? At ANP Metals, we supply high-quality steel fence and pet enclosure panels at great prices. We bring a wide range of products that are durable and highly resilient. To discuss your pet enclosure needs, do write to us at anpmetals@gmail.com.